Coronavirus: Weekly NI care home deaths fall again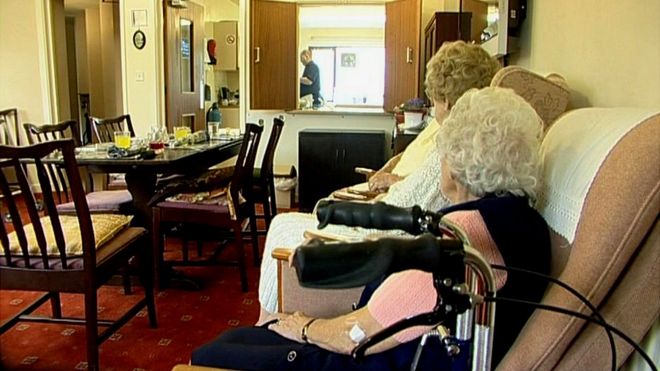 The number of weekly deaths in Northern Ireland's care homes has fallen for the second week 
in a row.

The Northern Ireland Statistics and Research Agency (Nisra) has published its latest statistical bulletin.
In the week to 15 May, there were 32 deaths in care homes. In the previous week, to 8 May, 
that figure was 38.
However, almost half of the 664 coronavirus-related deaths recorded by Nisra have happened 
in NI's care homes.
Recorded weekly deaths in Northern Ireland's care homes rose sharply after reporting by 
Nisra began on 20 March, and peaked in the week to 1 May, with 72 fatalities.
The latest Nisra report says that by last Friday - out of 664 Covid-19 related deaths recorded 
in total - 303, (45.6%), occurred in care homes; 322 (48.5%) occurred in hospital and six (0.9%) 
occurred in hospices.
Thirty-three (5%) took place at residential addresses or another location.
The deaths in care homes and hospices involved 76 separate establishments, Nisra reported.
In the week to 15 May, the number of people who died in care homes, 32, was higher than 
the number of deaths in hospital settings, 27.
People aged over 75 accounted for more than three-quarters (79.3%) of all Covid-19 related 
deaths in Northern Ireland.
There are still more details of this story. Follow here. : slotxo