codename: Llano Estacado

Components:
Case:
AKASA AK-ITX02BK
Processor:
AMD A6-3500
Fan:
stock from AMD (later maybe something like
Scythe Kozuti
(only 40mm height))
Motherboard:
ASRock A75M-ITX
Power supply:
80W external, supplied with case AKASA
Memory:
4GB DDR3 1600MHz CL9
USB flash drive:
8GB USB 2.0
Bluetooth:
i-tec Micro USB Bluetooth Adapter
Speakers 2.0:
Creative GigaWorks T20 Series II
little mor expensive, but good sound
DVB-T tuner:
HD DVB-T USB tuner Evolve Mars
Remote control:
Bluetooth keyboard:
Microsoft Wedge Mobile Keyboard
infrared receiver: TSOP4838 connected to ASRock motherboard
Infrared remote: none at the moment, planning Logitech Harmony 6xx
Mobile phone remote: Android: Yatse, XBMC official WindowsPhone: xbmc remote free
There is no HDD inside only USB. HTPC is used with NAS.
Primary use:
listen music from NAS

watch films from NAS

record TV shows from DVB-T

This is my first HTPC build with XBMC and OpenELEC.
I started with OE 2.99.2 Fusion. Now running OpenElec 3.0.0 Fusion (x64). Generic build is maybe better for CPU AMD A6-3500 but it is only x86 and I started with Fusion build and it is running fine.
DVB-T is working with preinstalled backend Tvheadend, frontend Tvheadend.
Power consumption
Power [W] / Max. power [W]
Computer
(A6-3500 + ASRock A75M-ITX + RAM + USB bluetooth + USB DVB-T tuner)
Turned Off 2,5 / 2,5
BIOS booting phase 67
XBMC running 33,5 / 65
mkv HD play 17-35 / 51 (CPU <10%)
avi SD play 35 / 35
mp3 playback 35 / 36
Speakers Creative GigaWorks T20 Series II
Turned off 0,5 / 0,5
Turned on 2,5 / 5 (does not matter if half volume, full volume, silent or playing music)
LCD TV Samsung LE32B652
(my TV)
Turned off 0,5 / 0,5
Turned on 111 / 115
New system is running
Look inside case + 80W power adapter
case AKASA ITX02BK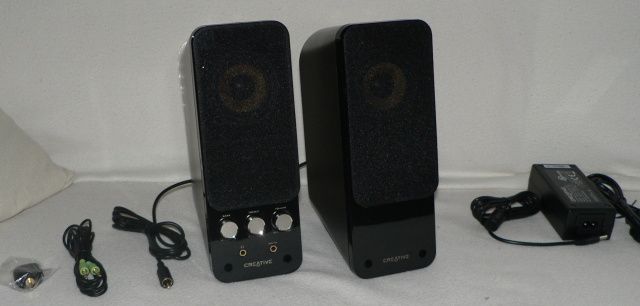 Creative GigaWorks T20 Series II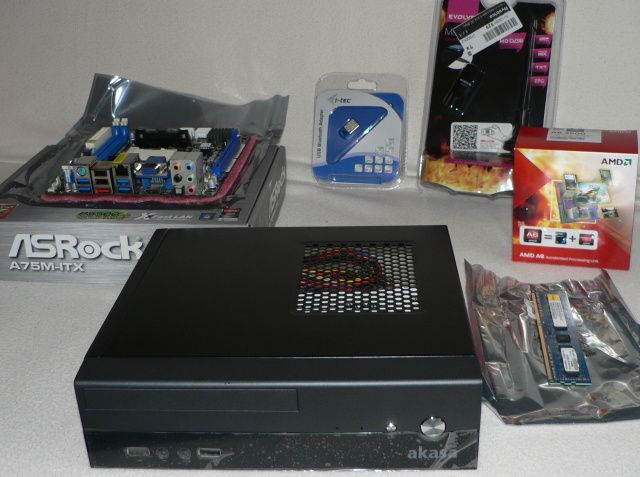 Ready to assembly
Manuals for noobs like me
How to start and configure DVB-T backend
Activate Tvheadend in XBMC - System - Settings - Add-ons - Get add-ons -OpenELEC ... - Programs - Services - tvheadend - Enable
reboot OE box
good manual is here:
http://wiki.xbmc.org/index.php?title=PVR.../Tvheadend
simply go to http://IP_OF_OPENELEC:9981
Next enable tvheadend frontend (client) in Add-ons
How to set path for recordings and timeshift
Create new user "openelec" on NAS with password "openelec".
Path for recordings will be \10.199.199.10Volume_2TV_recordings but it needs to be mounted in OpenElec.
Create mount point:
Code:
cd /storage
mkdir NAS
chown openelec:openelec NAS
cd NAS
mkdir Volume_2
chown openelec:openelec Volume_2
Edit file \IP_OF_OPENELECConfigfilesautostart.sh
Code:
#!/bin/sh
(sleep 10;
mount -t cifs -o username=openelec,password=openelec,rw //IP_OF_NAS/Volume_2 /storage/NAS/Volume_2;
)&
Reboot
Now you can access NAS as
/storage/NAS/Volume_2
. Use this path in Tvheadend backend (http://OPENELEC:9981) - Configuration - Recording - Digital Video Recorder - Recording system path like
/storage/NAS/Volume_2/TV_recordings
and Timeshift storage path too:
/storage/NAS/Volume_2/timeshift
How to make bluetooth keyboard work with OE
Install XBMC add-on openelec.repo.ancalex.x86_64-2.1.zip (for x64 Fusion build, Use i386 version of tools for x86 Generic version of OpenElec) from
addons.anxer.ro
Enable Ancalex add-ons: mksquashfs, bt-gui, blue-tools
Enable addon Nano (for editing files in SSH session)
Reboot
To enable input bluetooth device, you have to change ReadOnly file SYSTEM.
Open SSH session to OpenElec IP address from
PUTTy
Login as: root
Password: openelec
To unpack read-only system file to /storage/system.new/
Edit /storage/system.new/etc/bluetooth/main.conf
Code:
cd /storage/system.new/etc/bluetooth
nano main.conf
Change 4. line from
DisablePlugins = input
to
#DisablePlugins = input
Ctrl+X, Y, Enter to save file
To see PIN of bluetooth keyboard when pairing you have to add
hcidump
:
Download right version of hcidump from
packages.ubuntu.com/sk/quantal/bluez-hcidump
For Fusion (x64) build use amd64, for generic build (x86) use i386.
Open downloaded file bluez-hcidump_2.4-1_amd64.deb in 7zip and extract only one file usrsbin
hcidump
Save file to (for example) \IP_OF_OPENELECPicturesusrsbin
Copy file to /storage/system.new/usr/bin/ and change permissions
Code:
cd /storage/pictures/usr/sbin/
cp hcidump /storage/system.new/usr/bin/
cd /storage/system.new/usr/bin/
chmod 755 hcidump
To pack /storage/system.new/ back to read-only system file
Erase unneeded unpacked files
Code:
rm -rf /storage/system.new
Set Openelec to Manual Update
Reboot to make update. Look at TV screen for errors.
Connect bluetooth keyboard
Open first SSH session to OpenElec and start debugging bluetooth communication with command:
Put BT keyboard to Pairing mode. For Microsoft Wedge Mobile Keyboard I have to long press (5s) pairing button.
Open second SSH session to OpenElec and discover keyboard:
Write down MAC address of keyboard (something like 7C:1E:52:0A:4B:5B).
Connect keyboard:
bt-device -c 7C:1E:52:0A:4B:5B
Check first SSH window for debug. Look for "User Passkey Notification" and "passkey 923506". This is pairing PIN. You have to type it on bluetooth keyboard.
After successfull connect to keyboard set this connection as INPUT and trusted:
Code:
bt-input -c 7C:1E:52:0A:4B:5B
bt-device --set 7C:1E:52:0A:4B:5B Trusted 1
Check connection:
Code:
bt-adapter -d
bt-device -i 7C:1E:52:0A:4B:5B
Try BT keyboard.
Reboot to check if it is working after reboot too.